The 2012 Brazilian Symposium on Computer Games and Digital Entertainment (SBGames 2012) is the largest and most important event for games and digital entertainment in Latin America. It is attended by scientists, artists, designers, teachers and students from colleges, research centers and from the game industry.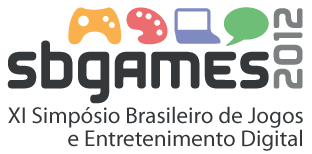 My paper "A Multi-User Natural Language Interface for Interactive Storytelling in TV and Cinema" has been accepted as a full paper at the Computing Track. I am also the co-author of the short paper "A Importância da Customização de Personagens na Narrativa de Jogos Digitais" accepted at the Art & Design Track.
My game "Little Gray Planet" has been accepted for the Indie Game Festival. Little Gray Planet is an educational interactive story designed for Interactive TV. The game tells the importance of preserving the environment and the consequences that harmful acts have in the world environment.

The eleventh edition of SBGames will be held at Brasilia, Brazil, at the Ulysses Guimaraes Convention Center, from November 2nd to the 4th, 2012.