My paper "Draw Your Own Story: Paper and Pencil Interactive Storytelling" has been accepted as a full paper at ICEC 2011 (International Conference on Entertainment Computing).
The ICEC is the longest established and most prestigious conference in the field of entertainment computing. The ICEC 2011 will be held in Vancouver, Canada.
The Paper and Pencil Interactive Storytelling system is able to dramatize interactive narratives in augmented reality over a conventional sheet of paper. The system allows users to freely interact with virtual characters by sketching objects on the paper. Users interacting with the system can indirectly affect the characters' decisions, even to the point of radically subverting the storyline.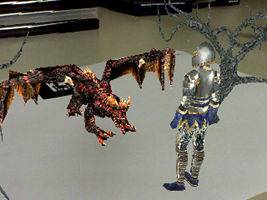 Here is a short video of the Paper and Pencil Interactive Storytelling: